It's that time again! Well, it was supposed to be that time YESTERDAY but Stays was a busy bee and I was a busy bee, and together we buzzed about and did everything but this. However, it's here!


Staysea
and I still have to have a little photo session for this, but for now I ganked some photos off her to put up temporarily. She's too cute hey? She could con cookies off the cookie monster EASILY. I will let you all know when her feature photos are up for the peepin!
Staysea
is one of the sweetest, and funniest, people I have personally ever met. I love the girl, and so I am super excited to present you with a little peek in to our lovely Downtown Staysea Brown!
__________________________
Q:
What is your favorite thing about working at Roots?
Andrew in his tight jeans!
Q:
When did you decide you wanted to become a hair stylist and what made you decide to become one?
I knew when I was pretty young. I have ADD and I needed a job where I could burn off all my energy and be artistic at the same time. Plus I was sick of living with 25 women and cleaning honeymoon cabins in Jasper.
Q:
Do you want to specialize in one particular area of hair design in the future? Example: Platform artist, working on movie sets, owning your own salon etc? Or are you content with having your own clients and working for Roots?
Ohhh thats kinda a bad question Sadie! If I say I want my own salon, will I still have a job?!? Maybe I can open a sister salon and call it "No Roots"
Q:
Now on to the more personal and random stuff... What do you consider to be your greatest strengths and weaknesses?
Strengths - well to keep it short... my eyes!

Weaknesses - I don't have any.
Q:
What's your number one goal in life?
To live life to it's fullest, and never look back!
Q:
What do you think the world needs to learn?
"sharing n' caring "
Q:
What is your dream concert lineup starting from opening band to headliner?
Well lets start out with a little Sublime, follwed by some Nirvana and lets end with Johnny Cash ♥
Q:
If you could have anything delivered to your doorstep each morning, what would it be and why?
The 'What Not to Wear' team to dress me, do my hair and my make-up! Ohh and maybe they could bring a coffee with them too...
Q:
If you could write one message on a ten dollar bill that people would see as the money circulated, what would it be and why?
"call me 331-3**4" ... LOL
Q:
If someone were looking for you in a bookstore, which section would they be most likely to find you?
In the movie section renting the movie instead of reading it.
Q:
What is something you used to love, but have outgrown?
My mullet
Q:
What is something you used to love and refuse to outgrow?
The Sears Christmas book. I still look through it every year and dream of my dress up trunk.
Q:
Is there anything that you enjoy that would probably surprise most of the people that know you?
Lately I've been playing Katy Perrys CD in my car and singing my heart out to #6, but I always turn it down when I pull up to another car... shhhhhhh!
Q:
What is your biggest fear, and how did you come to fear it?
I hate snakes!!! I used to have a dream all the time when I was a kid that I would walk out into the field to get my cat off of the fence, and a snake would jump up and bite my butt =(



Q:
If you could only keep one of your five senses, which would you decide to keep and why?
Is my voice a sense??? Cause I couldnt live with out that!!! Im sure my co-workers wouldn't mind though.
Q:
What are the five things that make you happiest in life?
Family, "my roomates", Friends, Andrew's tight jeans, the beach and of course my 2 cats (their soooooooooo cute)
Q:
Other than being a hair stylist, what is another career you would pursue if we had not have kidnapped you to our dark side?
A late night talk show host, but if that didnt work out I would work with youths with addictions.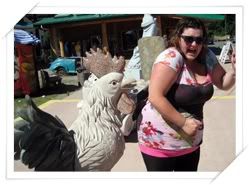 Q:
What type of hair styling excites you the most? For example, crazy rockstar hair styles, conservative hair styles, trendy styles?
I love it all, but after working for Bed Head, I would have to say I just got to love the 'rockstar' look
Q:
What are your biggest pet peeves?
Slow walkers who take up the entire sidewalk
Q:
And finally, what would you like to say to the readers? What would you like them to know about you?
I've never been the 'textbook hairstylist' and I have always talked about ALL of the stuff we are told never to talk about. So if you want to be entertained, come on down! I'm an open book, if you want to know something about me, just ask! That's how I roll.




Thank you so much for taking the time to read about me... Downtown Staysea Brown!