Ello Ello ma'lovelies!
Today was my day off, so I don't have any insider information to share with you :( I do however have a very important thing to discuss and let you all know about.
On November 14th Roots is holding our second annual 'Fun Razor'. Fun Razors are where we make people beautiful in order to get donations to give to a deserving cause or person. This year, we are raising money for Jenn Zahavich.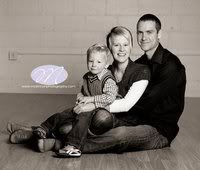 Jenn Zahavich is simply an amazing young woman who just so happens to be battling terminal cancer. She, however, will be the first to tell you that the word 'terminal' does not describe her, so I strike that word and I will just say 'cancer'. Her attitude over the entire ordeal is simply awe inspiring, and though I have never met this lady, I have heard nothing but praise and words of admiration come from each and every person that has mentioned her.
Jenn has a family that loves her more than life, friends that feel the same, and even strangers that have never met her (like me) that have been so deeply touched by her story.
As I mentioned above, the Love for Jenn Roots Fun Razer will be held on November the 14th between 11:00am and 4:00pm. We will be giving hair cuts and basic blowdrys for a minimum donation of $30. This will all be a first come, first serve kind of deal, but we will do our best to get each and every one of you in a seat so you can get beautiful and support Jenn at the same time!
Cash only for this fund raiser... err, fun razor... please guys :)
ALL PROCEEDS go to Jenn to help her save money so that she can go to a treatment center in Mexico, and spend very important time with her family... and most importantly, GET BETTER and kick this disease to the curb!
The Comox Valley is very well known for supporting our own, but the love for Jenn doesn't need to just be confined to this little town. If you want to donate to a very important cause, there is an account set up for Jenn at the TD bank under her name. The account number is 5680 5221457. Cheques can be made out to Jennifer Zahavich.
If you have any questions about the Fun Razer for Jenn, you can give us a call at the salon at 250-703-0181 or 250-890-0160, or you can comment here and I will be happy to assist you. We look forward to seeing you guys there on the 14th!